Measuring soil carbon
Obtaining long-term temporally and spatially comprehensive data is key to better understanding how New Zealand's agricultural soil carbon stocks are changing within different land uses. A new national study will provide these data.
National-scale benchmarking and monitoring
Carbon contributes significantly to the productivity of soils, because it benefits soil structure, nutrient cycling and water retention. Gains or losses of soil carbon can also, potentially, influence the amount of carbon dioxide in the atmosphere. See the Soil carbon topic page for more on the science of soil carbon.
Many New Zealand farmers are therefore keen to take steps that will maintain, or even increase, their soil carbon stocks. However, increasing soil carbon is currently challenging because:
There aren't yet any management practices that have been proven scientifically to increase soil carbon stocks consistently under New Zealand's varied physical environments and land uses. Comprehensive research is underway. See the Maintain or increase soil carbon goal page for more information.
More comprehensive data are required to better understand what New Zealand's soil carbon stocks under agriculture are right now, and how they're changing with time.
Funded by the New Zealand Agricultural Greenhouse Gas Research Centre, scientists have just started a long-term nationwide study specifically designed to address the latter. The study will assess whether soil carbon stocks under New Zealand agricultural land are increasing or decreasing, and how land use contributes to that change.
About 500 farm sites will be sampled to a depth of 0.6m (see map below). This sampling intensity is designed to detect a minimum change of 2 tonnes of carbon per hectare (over the period 2019–2030), should such a change occur within the broad land uses of: cropland, perennial horticulture, dairy, flat-rolling drystock and hill-country drystock.
The data generated will help improve our estimates of carbon stocks within a land use and how stocks are likely to change when land use changes.
First phases of the study will benchmark soil carbon stocks, while subsequent phases will monitor changes over time.
Strict site-selection, sampling, analysis, storage and data-management protocols will be followed to ensure results are robust, comparable and available.
If a random sampling site falls on land you own or manage, someone from the project team (or assisting primary industry organisation) will be in touch regarding permission for sampling.
In return, landowners/managers will receive results from soil sampling on their land and be regularly updated with overall project results.
Farm-scale benchmarking and monitoring
Many farmers want to know how much carbon their own soils contain, and how these levels are changing.
Accurate estimates of soil carbon stocks require statistical knowledge, specialist tools, the engagement of a certified laboratory and a commitment to following procedures precisely and repeatedly over time. For more details, see this report [PDF, 1.7 MB] led by Dr Paul Mudge at Manaaki Whenua.
Before starting measurements, it's important that you're very clear about your objective(s) for benchmarking and/or monitoring soil carbon on your farm. Do you simply want an estimate from a single location (for example, a point in an individual paddock) at a single point in time? Or, do you want to comprehensively quantify soil carbon stocks at representative points across your whole farm, and measure changes over time, so you can compare with other farm, industry, regional and national measuring initiatives in a scientifically and statistically robust way?
Obtaining an accurate measurement of soil carbon stocks at a single point in time in one particular location requires careful sampling of a known volume of soil (usually using a coring technique to a minimum of 30cm depth), processing of the sample (i.e. weighing, drying and sieving), laboratory analysis for organic carbon and then calculation of carbon stocks.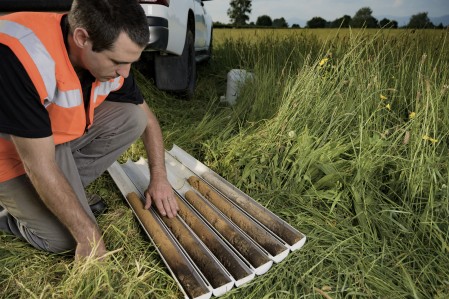 Quantifying soil carbon stocks in a statistically robust and comparable way across a whole farm is more difficult and expensive. Such a study requires careful design to ensure enough soil samples are collected and that they represent the range of soil types, slopes and management activities on the farm. More sampling sites will also increase costs of sample collection, processing and analysis. To design and implement a robust study to obtain information on current stocks would cost between $10,000 and $15,000 for a typical dairy farm. Subsequent measurements (taken several years apart) to obtain data on how stocks are changing would typically cost between $5,000 and $10,000 each. The costs of designing and implementing a soil carbon benchmarking system will vary considerably between farms, depending on a range of factors such as:
The objective for undertaking the measurements, e.g. the precision with which soil carbon stocks and stock changes need to be determined
Farm size
Topography
Spatial variability
Whether individual or composite samples are analysed
The cost will also depend on who is designing and implementing the system and the associated charge out rates.
Finally, statistically robust benchmarking and monitoring over time at the whole farm scale will not, alone, identify individual management practices that influence soil carbon. That's the subject of other research (see the Maintain or increase soil carbon goal page).
More information
For an introduction to soil carbon, see the Soil carbon topic page.
For more on continuing research to identify actions that might help maintain or increase soil carbon, see the Maintain or increase soil carbon goal page.
See here to listen to a Sarah's Country podcast featuring Manaaki Whenua's Dr Paul Mudge, the scientist leading the NZAGRC's soil carbon monitoring programme